Each year, during August, the VCACA, Inc. presents the CaribFest Festival.  This event draws a crowd of exuberant fun-lovers to Norfolk's waterfront Town Point Park for a weekend of parading, dining, socializing (liming) and dancing in the sunshine.
The CaribFest Festival is an exhilarating celebration of performing arts, outdoor entertainment, and community spirit.  The Festival is an exciting cultural explosion of Caribbean, Latin, African and Folklore music, cuisine, and revelry.
The magnificent costumed parade and displays are elaborate and oh so delicately worn and designed for movement.  Every move they make, is a breath-taking spectrum of colors.  With Town Point Park serving as the nucleus of all activity, CaribFest is not complete without Live performing artists, fine cuisines, Arts and Crafts displays, a kids play area and much more.
This is a weekend of tropical rhythm, cuisine, carnival and culture as only the Caribbean can offer.  Over the years, the Festival has grown into the largest Caribbean event on the local calendar.  With thousands of attendees, it is possibly the largest cultural event of its type in Norfolk, likewise in the State of Virginia, period.
Town Point Park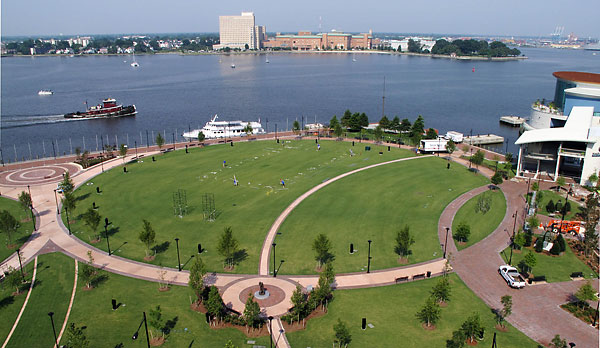 CaribFest Festival is held in Norfolk, Virginia, USA.  Town Point Park is Norfolk's premier waterfront entertainment venue and serves as a destination for signature festivals, cultural and educational events.
The setting is waterfront Park, a large green space with a picturesque view of the Elizabeth River and Norfolk's skyline.
CaribFest has an admission fee for individuals 11 years and over, it is open to all ages, is wheelchair accessible, walking distance to downtown many establishments:  MacArthur Mall, hotels, night clubs, restaurants, parking garages, and to public transportation.