CaribFest 2017 Parade Route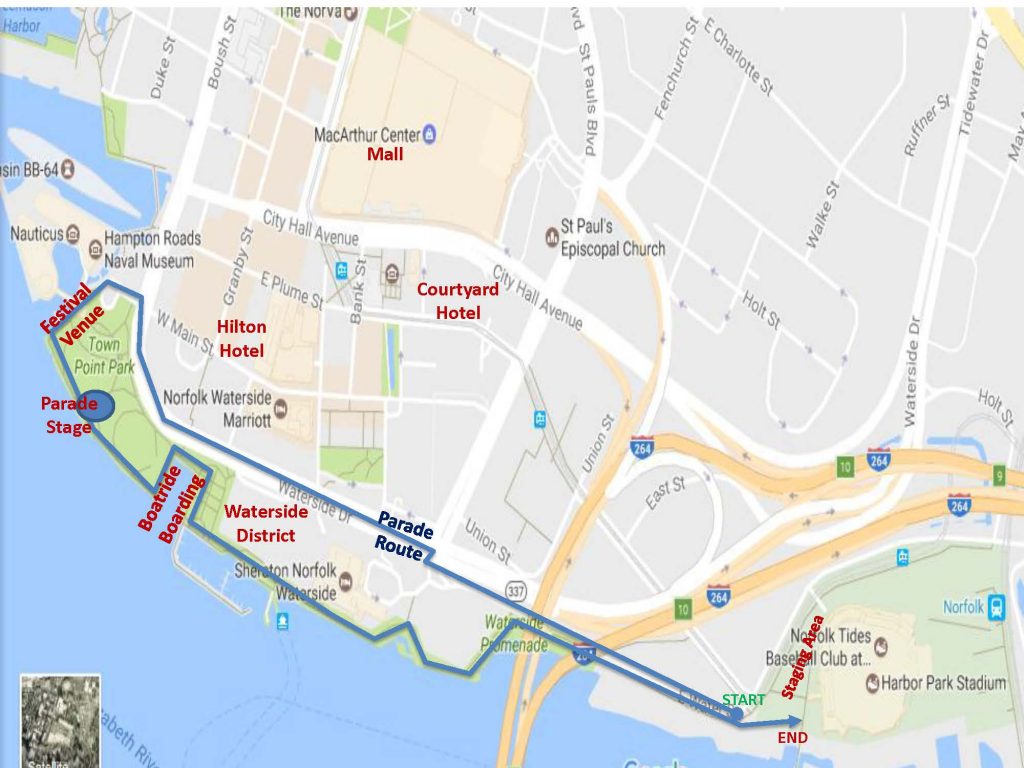 Staging Area and Parade Route:
The parade staging area is at Harbor Park parking lot G and A.  The parade kicks off at 1:00 pm.  The parade route will start on E. Water St. and proceed West on Waterside Drive, turn left into Festival Venue (Town Point Park) via Nauticus Entrance, follow pedestrian path along the Elizabeth River Trail, going around the Dominion Tower garage, back on E. Water St. and end at Harbor Park (Parking Lot F).
Resident/Business Owner/s:
Please be advised that the following streets will be restricted by Norfolk Police who will maintain vehicular access to Dominion Tower, Sheraton and Nauticus when it is safe to do so during the parade starting at approx. 12:00 noon and will fully reopened when the last parade unit passes (approx. 3pm):
 E. Water St. will be closed to traffic but patrons will be allowed to access the Dominion Garage and the Sheraton.
 Southbound Boush St will be detoured east onto City Hall Ave.
 Westbound Waterside Dr. will be detoured at Atlantic Ave heading northbound to E. Main Street.
 Eastbound Waterside Dr. will be closed from southbound Boush St to St. Paul's Blvd.
During this time period, motorists are encouraged to seek alternate routes in an effort to avoid delays.
Thank you for your patience and understanding.
Tailgating Information:
*         No blocking of streets.
*         No alcoholic beverages.
*         No cooking on any kind of grill (open flame, gas, electric, etc.).
*         Prepared food, soft drinks, water, etc. only.
*         Cannot take up or occupy a parking space with chairs, tables.
*         Must clean area after use.
Violators could be cited and will be asked to leave the lot. Thank you for your cooperation.